This post is for:
It's clear from the chart below that there are a lot of new listings entering the market. People are selling, but what type of properties are selling?
Where should you focus your marketing time and budget?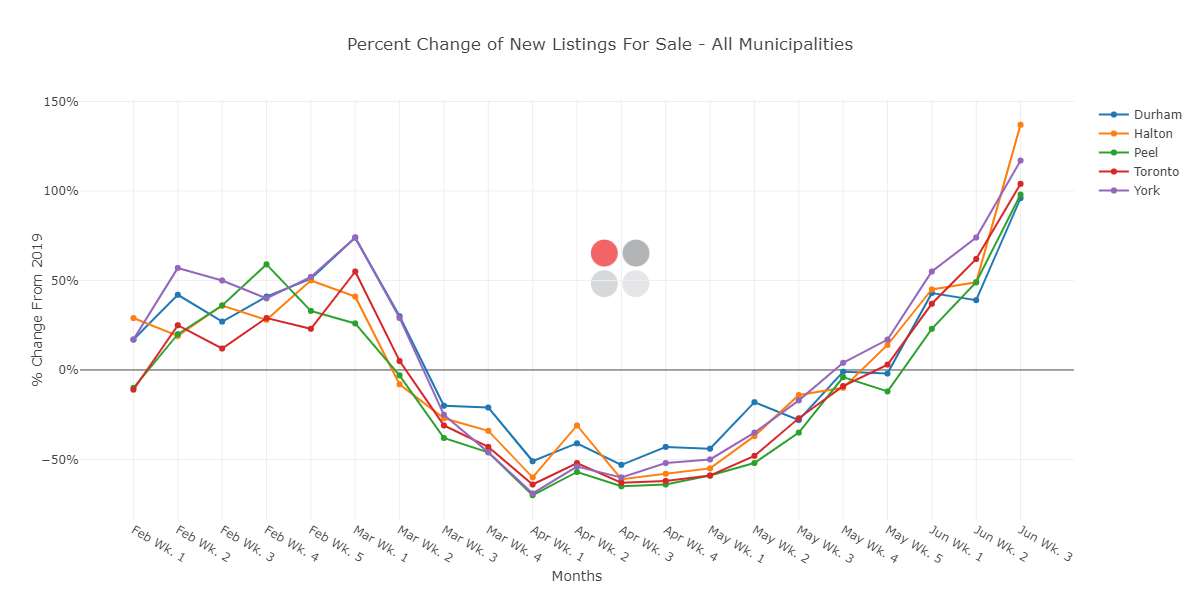 (Click to enlarge)
To understand the types of properties that are selling, we start by looking at the median price distribution by using active listings and grouping them by their listing price.
We chose to group residential into $500K buckets (i.e. $500K, $1M, $1.5M, etc.) and $100K buckets ($100K, $200K, etc.) for condos. We then took the median price of the groups and filtered out any groups that had less than 10 active listings.
Next, we plotted the data in a Bubble Chart so we can visualize the data.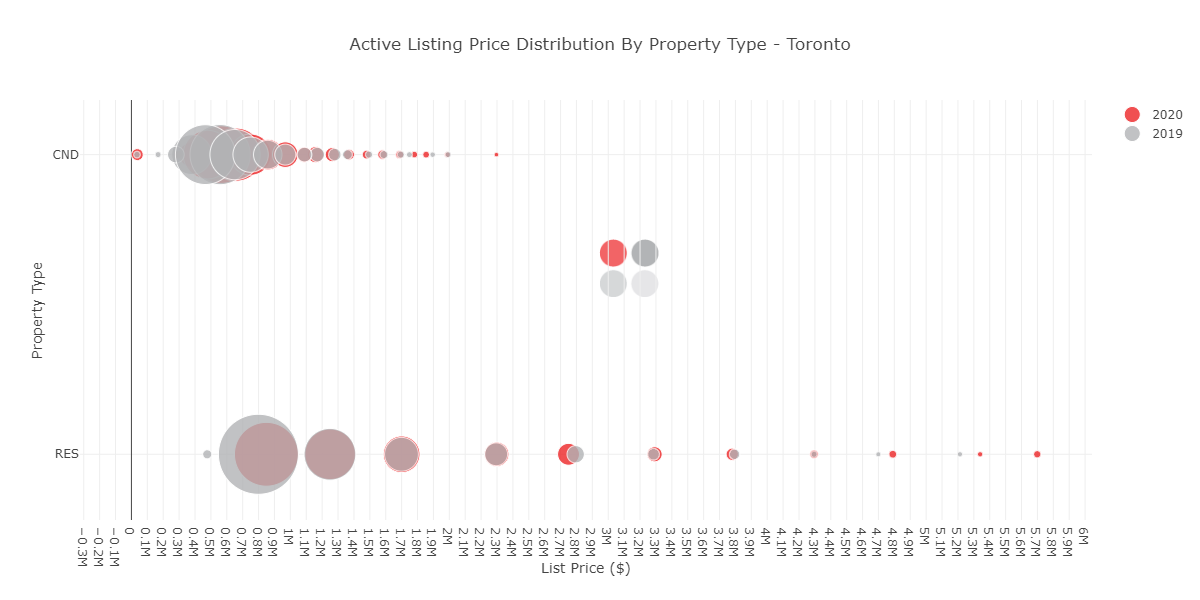 (Click to enlarge)
The chart above shows the volumes (size of the bubbles) of active 2019 listings overlayed on top of active 2020 listings. We chose the Bubble Chart because it visually emphasizes the difference between years. Specifically, when there are more 2020 listings, at a specific price point than 2019.
We can observe that there seem to be more residential luxury listings (this definition changes depending on the municipality) in 2020 than the same period in 2019.
Next, let's look at how residential luxury listings are selling.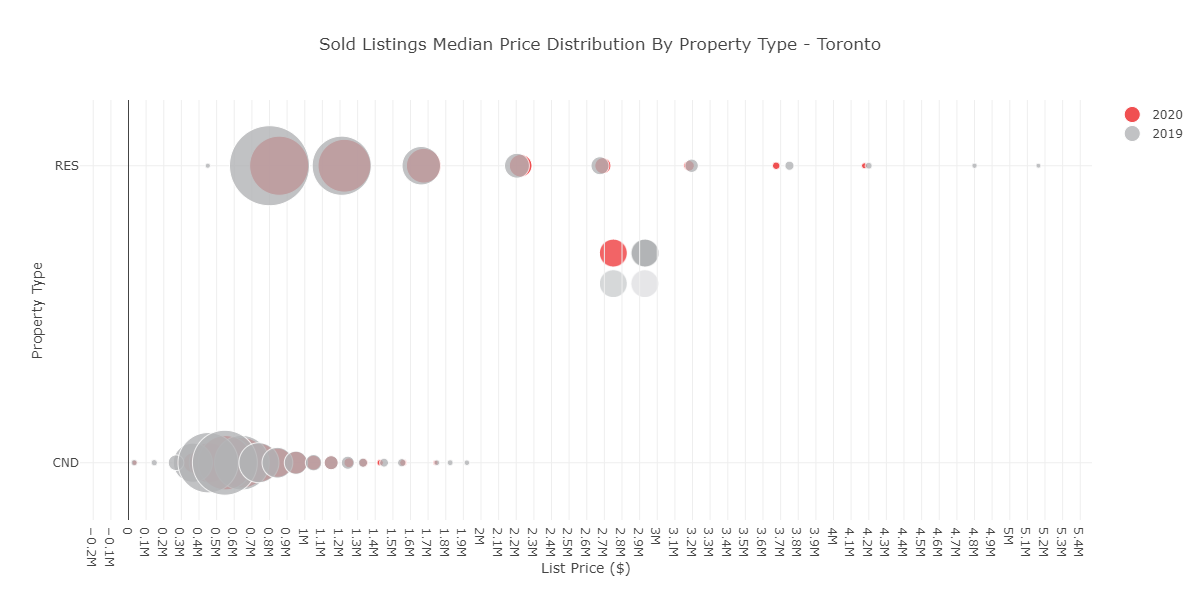 (Click to enlarge)
We've performed the same grouping as before, but this time using the sold price.
From this chart, we can see that more luxury listings were selling in 2019, but this is unsurprising considering the current pandemic. What we find surprising is that the difference isn't more significant.
We looked at one more trend to complete our analysis, the weekly volume in new luxury listings (> $2.5M) between 2020 and 2019.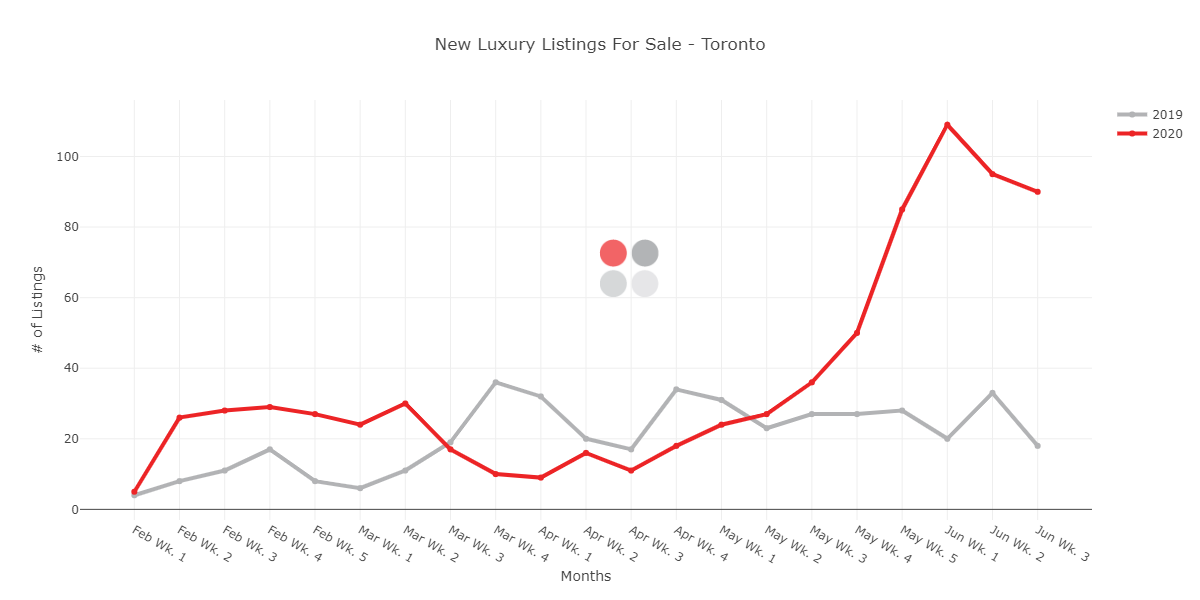 (Click to enlarge)
The chart above clearly shows an increase in the number of new luxury listings entering the market.
So, to wrap things up, should you focus your marketing time/budget on luxury listings?
KEY TAKEAWAY
Based on active and sold volumes, plus the increase in new listings, there is a strong indication that there is an opportunity in the luxury listing market.
As always, we'll continue to analyze the Greater Toronto Area real estate data and send out updates. We hope this helps you make an informed decision for your business.